I love Wonderful Copenhagen and I have seen it through many different angles before! During my most recent research trip to Copenhagen I was accompanied for the first time by my 2-year-old son. As expected, Denmark's capital city offers loads of activities for toddlers, although some of them are not broadly advertised. Here you can find a list of fun things to do with 1 1/2-to-3-year-olds that are close to the city centre and compatible with a midday nap.
Fun for free
First of all, as you know, little people are really creative when it comes to inventing their own kinds of fun. Give them steps and stairs, inclined planes, hand rails or the smallest fountains and they'll turn them into adventure courses, noise machines and splish splashes.
My son, for example, loved the wonderful fountain right in front of Queen Margrethe's residence, Amalienborg Palace, which smells of the sea and sounds like a waterfall. Simple necessities like riding on Copenhagen's futuristic, driverless metro could have entertained my little car lover for hours on end. And how many times can you take the giant moving staircase in the main hall of the Royal Library, that spectactular glass edifice also fondly called the Black Diamond?
Second, the city centre is full of lovely (design) playgrounds which provide much-needed breaks or give you something to-do when you and your early bird(s) wait for shops and museums to open (10 am!). There are smaller ones right next to the famous shopping mall Strøget, for example a toddler-friendly wood space outside Nikolaj Kunsthal just a few 100 meters away from Kongens Nytorv.
If you venture out a little further, into one of the many parks of the city, you will find award-winning design playgrounds like the Tower Playground in Fælledparken – where children can climb models of Copenhagen's famous towers – or the dragon-themed playground in Kongens Have, near Rosenborg Palace.
What we didn't manage was to visit the Nature Playground in Valby Park. Also, we decided against Tivoli: The fairground rides are only for older children; you can just pay the general entrance fee and visit their playground; but that makes it a rather expensive playground! We'll reserve that for next time.
Pleasure that pays off
While children under 3/5/18 usually do not pay entrance fees anywhere, accompanying adults usually have to spend between 100 and 200 DKK – money well spent in the following attractions:
A must-have for children in Copenhagen is, of course, a boat tour of the old seaport's harbour and canals, which brings them to all the main sightseeing points such as Nyhavn or the Little Mermaid without having to walk much.
Of the many museums, I only mention the National Museum, which under non-Corona conditions, offers an entire section for children called Børnenes Museum (Children's Museum) packed with hands-on history. It was temporarily closed when we were there. But, as I find, small children can entertain themselves in almost any given museum, and here you can also find points of interest in the permanent exhibition, for example an enchanting walk-through city of dolls' houses with peek-through windows.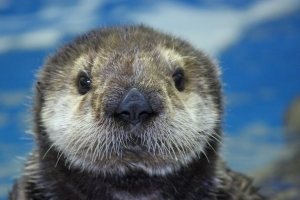 One of the most atmospheric things that we did was an afternoon trip to Northern Europe's biggest Aquarium, Den Blå Planet (The Blue Planet), which can be reached within 20 mins by metro. Here you find giant sea landscapes inhabited by more or less exotic sea animals like sharks, turtles, clown fish or puffins… The most exciting part are several water basins where you can touch sea stars, crabs or flounders. And we simply fell in love with the lively, playful group of sea otters that lives there – a band of orphans from Greenland, whose rescue I think makes their "captivity" ethically more justifiable. We enjoyed a delightful dinner with a view of the sea and close to the museum's water playgrounds. If you prefer sea bathing, you can combine your visit with a trip to Copenhagen's popular sand beach, Amager Strandpark.
Finally, there are also a number of stores worth mentioning. For all lovers of building bricks, the Lego Store is a must-see attraction, although we found its Duplo section for toddlers a bit disappointing. We could have spent hours, though, in the many children's concept stores that dot the city centre and sell both famous Danish as well as European design brands (like Fabelab, Liewood, Moulin Roty, Djeco, Maileg etc etc)., for example Karrusella:
So step in and let the adventure begin!
For more things to do in Copenhagen, especially also with older kids, see:
https://www.visitcopenhagen.com/copenhagen/activities/copenhagen-with-kids